The Board of Education reports to the Board of Trustees of From the Heart and has the responsibility to provide the Headmaster with counsel, assistance and input that ensures the school operates in response to the Christian school's Mission Statement and values. The Board of Education assists the Headmaster in the overall management and direction of the school by implementing decisions, as directed by the Headmaster, that are in keeping with the Holy Bible and the School Mission Statement.  The authority for spiritual matters affecting the school, however, rests with the Headmaster. The Board of Education is a working board, not a board that meets in "name" or formality only.
FTHCS Board of Education Members
As the Headmaster of From the Heart Christian School, Bishop Cherry works on behalf of the administration, staff, parents, volunteers and students of the School.  Bishop Cherry is responsible for the overall direction and management of the School, Board of Education and Alumni Association.  Bishop Cherry is a proud hornet, having attended From the Heart Christian School (formally Full Gospel AMEZ Christian School) for 3 years as a child; worked as a teacher in the School for 8 years, after graduating from college; served as a Member and now Chairman of the Board of Education since 2002; was a proud parent of three Christian School students from 2000 to 2020 for 20 years; established the Parent Teacher Association in 2021; and is honored to be the Head Hornet, rooting for our students in their academic, athletic and extra-curricular endeavors since 2006!
Bishop Cherry is the type of Headmaster that finds time to stop by morning formations to check in on the student body to provide godly instruction and encouragement.  He enjoys stopping by the preschool and elementary classrooms just to greet the younger students and remind them to have a good day.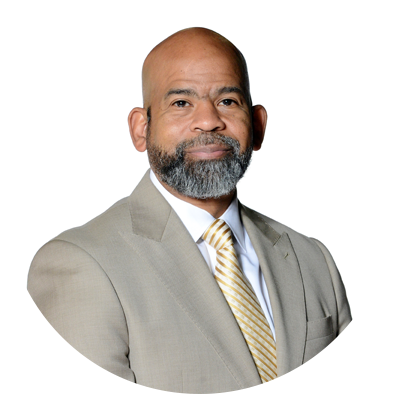 Bishop John A. Cherry, II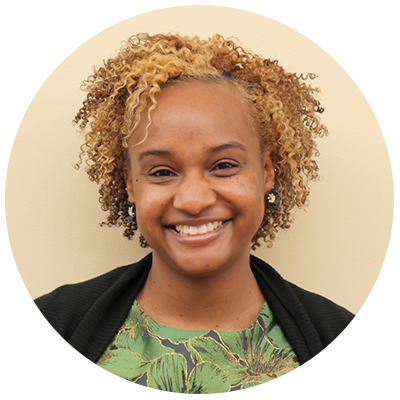 Sister Whitney A. Ambush, Esquire
Sister Whitney A. Ambush, Esquire was born in Washington, DC, and raised in Landover, Maryland.  Sister Ambush attended Howard University on a full academic and tennis scholarship, and graduated in 2009, magna cum laude, with a Bachelor's of Science degree in Health Management.  She graduated from the University of Maryland School of Law in May 2012, with a Doctor of Jurisprudence degree, and was admitted to the Maryland Bar in December 2012.  Sister Ambush's professional experience includes: law clerk for the Maryland Department of Juvenile Services, Legislation and Policy Division; law clerk in the Office of General Counsel for Dimensions Healthcare; law clerk in the Maryland Office of the Attorney General, Health Occupations Prosecution & Litigation Division; law clerk for From the Heart Church Ministries, Inc.; and, Attorney Advisor in the Medicare Operations Division of the United States Department of Health and Human Services. Sister Ambush is currently a Staff Attorney in the Office of Special Masters of the United States Court of Federal Claims, specializing in vaccine injury litigation. Sister Ambush has served as a mentor and volunteer tennis coach for the Prince George's Tennis & Education Foundation and is the legal advisor for the Institute for Women™.  Sister Ambush has been a member of From the Heart Church Ministries® since 1999, and is active in Pastoral Care, the Altar Ministry, and Restored. Sister Ambush is a giver, giving of her time, talents, abilities, and resources so that others may experience the love of God.  The teachings and ministry of From the Heart have been crucial to her spiritual and natural success.  Now that she is restored, she is committed to the work of restoring this generation.
Jacqueline Cheaves was born and raised in the great city of Washington, D.C.  Her parents taught her and her sister to love the Lord and to value education.  After graduating from Benjamin Banneker Academic High School, she attended George Washington University majoring in Psychology with a minor in Biology.
After working several years in the Federal Government and with the love and support of her husband and three children, she returned to GW to obtain a master's degree in Education and Human Development with a concentration in School Counseling.  At the same time, she became certified as a National Certified Counselor (NCC).  She immediately began working in the field as a School Counselor at Our Lady of Good Counsel High School, in Wheaton, MD and remained there for three years before relocating to Charles County, MD where she served as Student Services Department Chair at Westlake High School for eight years and seven years at St. Charles High School. She is currently the Supervising Counselor for Charles County Public Schools.
She and her husband, Alton, have been members of From the Heart Church Ministries® for over 25 years.  They have three adult children, Malcolm, Mariah and Anthony.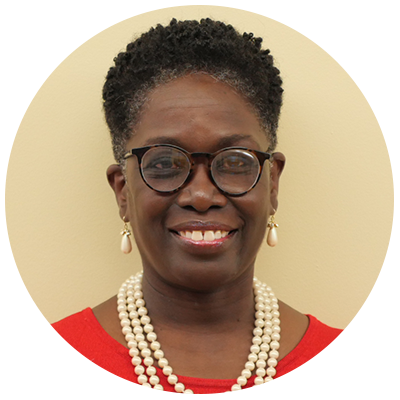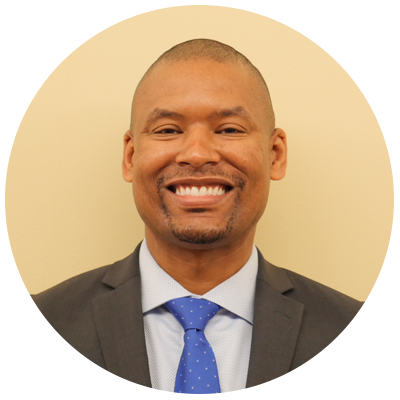 Brother Johnathan Jackson
Brother Jonathan Jackson is an established professional with over 15 years of experience in the information technology (IT) industry. Currently he is a cloud architect and manager at Stanley Black and Decker where he leads a team of cloud professionals in the development and implementation of cloud architecture for enterprise systems. Prior to this role, he worked in various positions of increasing responsibility in database administration and cloud computing. As a solution-oriented and hands-on leader, he is passionate about leveraging technology to solve problems and mentoring youth and young adults who are interested in the IT field.
Brother Jackson is an active member of From the Heart Church Ministries® where he is a member of the Multimedia and Intercessory Prayer ministries. He served six years as ministry head of the Multimedia ministry, and currently serves as an assistant ministry head of Intercessory Prayer ministry. In 2001, he graduated from From the Heart Christian School, and in 2005, he received his Bachelor of Science degree in Information Science and Systems from Morgan State University.
Brother Jackson currently resides in Washington, DC with his lovely wife and sons.
Brother Ralph Ogundiran grew up in Prince George's County and has lived in the District of Columbia since 2012. Brother Ogundiran graduated with a Bachelor of Arts degree in American Studies with a concentration in race and ethnicity from George Washington University in Washington D.C.
Bro. Ogundiran began his first teaching position in 2012 with KIPP DC through the Capital Teaching Residency program. After completion of this program, Bro. Ogundiran began teaching kindergarten at KIPP DC Grow Academy which he did for five years.
Bro. Ogundiran began teaching fourth grade students at Two Rivers Public Charter School in 2018 where he currently serves as the mathematics teacher for fourth and fifth grade students. Brother Ogundiran has been a member of From the Heart Church Ministries® Parent Church since 2009. He currently serves with his wife as the ministry head of the Boy Scouts Ministry.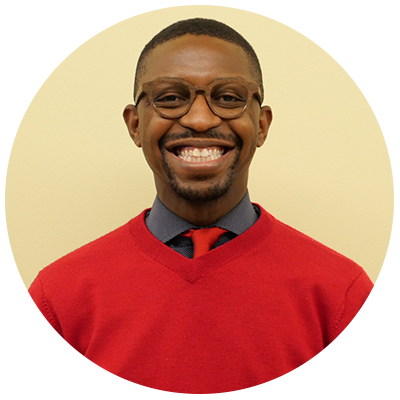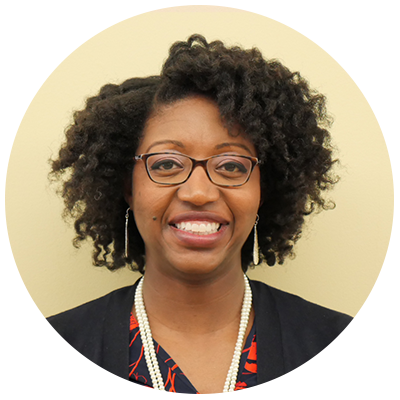 Faith Kelley, MD is an Assistant Professor of Psychiatry and Pediatrics at The George Washington University School of Medicine and Health Sciences in Washington, D.C. Dr. Kelley is Board Certified in Adult Psychiatry and Child and Adolescent Psychiatry. She currently works at Children's National Medical Center (CNMC) in Washington, D.C. where she is the Director of the Mood Disorders Clinic and the psychiatry consultant for the Children's Health Centers at THEARC and Anacostia clinics in Southeast Washington, D.C. Dr. Kelley is also part of the teaching faculty for the CNMC Child Psychiatry fellowship program and GW medical school program. Dr. Kelley completed Adult Psychiatry residency along with fellowships in Child and Adolescent Psychiatry and Public Service Psychiatry at the University of Pittsburgh Medical Center (UPMC)/Western Psychiatric Hospital. She received her medical training from The George Washington University School of Medicine and Health Sciences and graduated Summa Cum Laude with a Bachelor of Science from Xavier University of Louisiana with a major in Chemistry-Premed and minors in Biology and Spanish. Whether through her work in clinical settings, churches, or schools, Dr. Kelley strives to help youth, families, and their community support system understand mental health challenges and how they can help youth thrive despite them. She has a particular interest in working with African American Christian communities and has done grant-funded workshops, consultations, and research with medical professionals and church groups around understanding how to make sense of and manage mental health challenges in light of one's cultural experiences and Christian faith. Dr. Kelley previously served on the UPMC Physician Inclusion Council, an advisor to the UPMC pediatric residency program, and co-founder of the Minority Housestaff Association of UPMC to provide career development, mentorship, and community-building opportunities for underrepresented ethnic minority resident physicians. Dr. Kelley is currently the ministry head for the Ministry of Health and Healing and has been a member of From the Heart Church Ministries® since the mid-1980s. She has been involved in various church programs, including Children's Choir, YAPP (Youth Against Peer Pressure), Youth Institutes, GAANG (Group Affirmation and Acceptance which Nurtures Growth) Youth Council, Ministry of Health and Healing, and the Summer Youth Employment Program through which she worked in the Office of the Pastor and for the None Suffer Lack (NSL) Health and Healing Center. Dr. Kelley is also a proud alumnus of From the Heart Christian School and recognizes the significant role of the local church and the Christian School in her spiritual, academic, and natural success. Dr. Kelley recognizes the potential for a child to succeed when that child commits to personal spiritual and academic excellence; receives education in a caring learning environment that fosters the development of strong Christian character and performance at one's personal best; and has dedicated Christian parents who also embrace these values. Dr. Kelley is proud to serve on the FTHCS Board of Education and hopes that her service will help the school continue to meet its mission to provide excellence in Christian education. "I consider myself truly blessed, not because of what I have obtained, but rather because I have an opportunity to make an impact on young lives every day". – Dr. Faith Kelley