Preschool and Kindergarten
Preschool and Kindergarten
The focus of the Preschool and Kindergarten is to provide a comprehensive, research-based program that integrates proper early childhood development and education into our instruction which addresses the social, emotional, intellectual and cognitive skills of each child. Fine and gross motor skills, as well as hand-eye coordination and balance, are developed through engaging in active instruction and play time. Spiritually, our desire is to introduce preschoolers to who God is, how they relate to Him and to know His desire for them to grow and develop in their obedience to the Bible and godly authority. Academically, our desire is to provide students with a solid foundation in the fundamentals of literacy, math, science, and social studies while developing in them a love for learning.  
Daily Schedule includes...
Naptime
All children will rest every day. Rest time is scheduled from approximately 12:00 pm – 1:45 pm each day.  Not all children will sleep, but they are required to rest quietly on their cots during rest time.  The school will provide a cot for each child. Parents must provide two small (generic) blankets or a beach towel for the child to use as bedding and cover for nap/rest time.  If your child sleeps with a pillow, parent may supply a small, child-size (travel size) pillow. Pacifiers, baby bottles, nor sip cups will be allowed in school.   
Playtime
Outdoor activities are important and just as necessary as the indoor program.  Both are essential to the health, education, and development of your child. Every child in the School will receive outdoor time every day unless inclement weather prevents otherwise. Age appropriate playground equipment will be provided for large muscle development.  
The gym is an alternate play area for the children when weather does not permit outdoor play.  There is ample room for running, jumping, yelling and playing.   
The School will daily provide one-snack for your child. A morning snack time will be allotted for students.  Students may bring fruit (fresh, canned) and drink water during this snack time.  Flavored water is not permitted.  Please slice fresh fruit into bite-size pieces to eliminate choking hazards. 
The School will provide a light afternoon snack each day for your child. Afternoon snacks consist of graham crackers, goldfish crackers, applesauce, or fruit cup.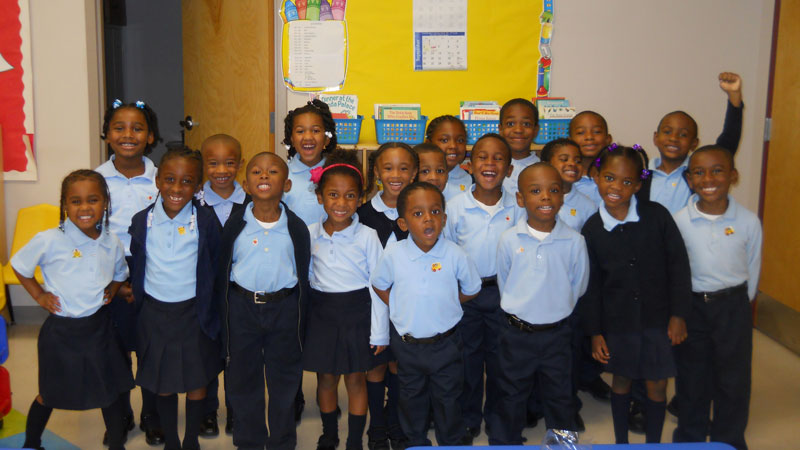 Boys Dress Code

Shirt: Light blue polo style OSU No turtle necks Long or short sleeves Long sleeves cannot hang past wrist, nor can be rolled up

Sweater: (no monogram / no crest) Navy Blue OSU Cardigan button down only (no vest or pullover) PLAIN, No Zippers, No snaps, No clips

Pants: Navy blue Official School Uniform (OSU) No cuffs Pants cannot drag the ground/floor Elastic Waist if child still has potty accidents K3 (Complete Elastic Waist Preferred)

Socks: Black or Navy blue

Belt: Black or Navy Blue (No design) When fastened, end of belt cannot extend more than 3 inches past buckle. Elastic preferred

Shoes: Black non-skid, rubber sole, casual dress shoes PLAIN, No sneakers, No sneaker type, No boots, No lights, No Super Hero, No Cartoon Design Shoes may have laces or Velcro No patent leather
GIrls Dress Code

Skort: Navy blue *Official School Uniform (OSU) Skort is a skirt & short combination Knit/Polyester Fabric No buckles No belts, bows or ribbons Skort length no more than 3" above knee

Blouse: Light blue polo style OSU No turtle necks No ruffles, no lace Long or short sleeves Long sleeves cannot hang past wrist, nor can be rolled up

Sweater: (no monogram / no crest) Navy Blue OSU Cardigan button down only (no vest or pullover) No Zippers, No snaps, No clips PLAIN, No bows, No ribbons, No lace

Socks: Navy blue (tights optional for girls

Shoes: Black non-skid, rubber sole, casual dress shoes PLAIN, No sneakers, No sneaker type, No boots, No lights, No Super Hero, No Cartoon Design No protruding bows, flowers, butterflies, etc. Shoes may be laces or Velcro No patent leather